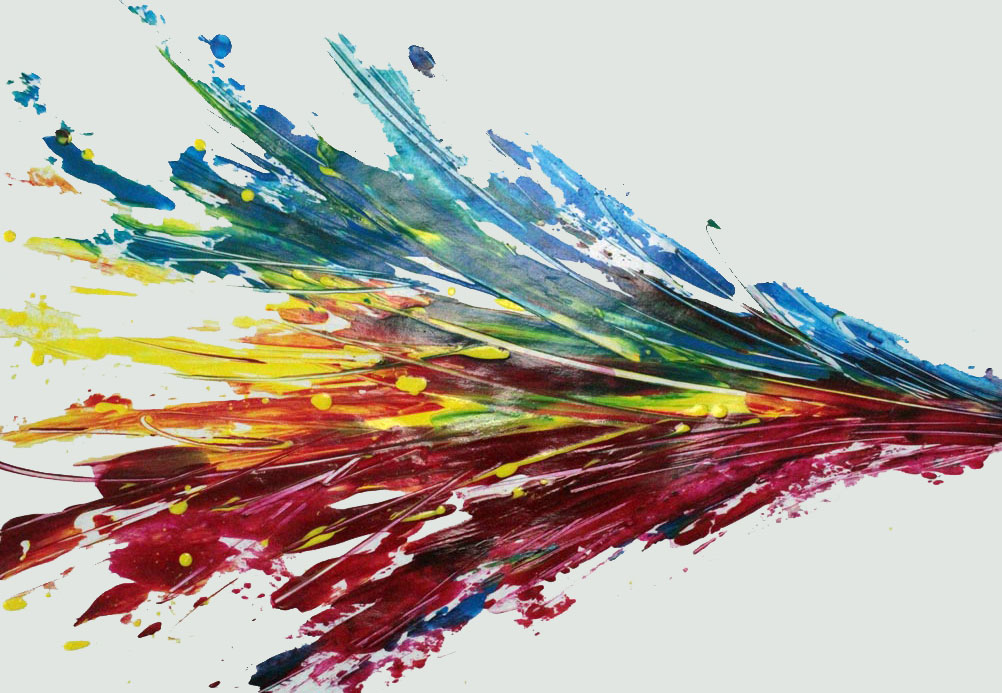 OUR ARTISTS
Click on the approriate button to see all patterns, paintings or painted decorative pieces by our artists:

Please select an artist to see his biography, his patterns, his paintings or his painted decorative pieces.


Arielle Cloutier


Arielle is first and foremost a multidisciplinary creator of the next generation of Quebec graduates of the Master's degree in Literature, Performing Arts and Screening at Laval University. She is particularly interested in interactive and immersive spaces where the viewer generates a reflection through the relationship he has with the work, a process that she tests in her professional creations within the Collectif DTT, such as Lapalissade, presented at Mois Multi 2017. Her work is mainly directed, video design and technique.
Having always been passionate about the art, Arielle has never stopped writing stories, drawing and painting since her childhood. In the end, she always ends up marrying several artistic forms, like integrating 2D animation into a show and telling stories from her paintings.
In 2016, she joined the Pin-So team in Quebec City and returned to her love of the visual arts, slightly put aside for her university studies. She discovers, with the bosses, the opportunity to have an art piece live longer, benefit a greater number of people and help other artists in their making. It is then that she joins in 2017 the artists of Les Éditions CDP, brimming with inspiration and finally ready to share her stories and her words in painting.


Brenda Levert


Like many artists, I have been painting and drawing since I was a very young child. My father was an artist so I had the opportunity to spend many hours with him in his studio. He taught me how to draw and introduced me to many different mediums from pencils, to watercolours, to oils and acrylics. I tried them all.
I went to art school at the Montreal Museum of Fine Art, in Montreal Quebec, where I lived at that time. I studied painting and drawing. After that I spent many years painting and selling my work, and then I started teaching painting and drawing in my home studio.
Then one day a friend introduced me to Decorative Art. I loved it! After taking many classes at guilds and conventions, I started to create my own designs and pattern packets. Now I have been teaching and designing for over 20 years. My specialty is birds and flowers.
I hope that you enjoy painting my designs as much as I had creating them.


Brigitte Malenfant


Presentation of the artist to come soon.


Carole Caron


Since 1992, I have practiced painting and this hobby is now a passion.
After several classes and with a few weekends in workshops, I am now learning on my own. Also, it was by experimenting on ceramics and wood that I have finally realized that my favorite surface to paint on is canvas. Since then I developed my own technique which joins some of the traditional techniques of painting.
It describes my work as dynamic and energetic! I use a palette of bright and shimmering colors. The simplicity and candor of my work represents magnanimity and generosity. I draw my inspiration from life itself...
The colors and life that radiates from the scenes with the children remind us of those wonderful moments during our childhood following the flow of our moods. The omission of facial features ensures that everyone can imagine themselves in this small world.


Carole Majeau


Born at St-Gabriel-de-Brandon in Lanaudière, it is in this beautiful region that I discovered Decorative Art painting. After painting innumerable projects and participating in many training offered by the boutiques, I have decided to teach Decorative Art Painting at home.
After moving to Quebec for work, I kept on improving by participating at seminar offered by renowned artist. In 2010, I have decided acquiring La Boîte à Pin-So to join my entrepreneurial experience with my art passion.
Today, I have the chance to be able to live from my painting, my pattern selling, my teaching and the management of Pin-So and Les Éditions CDP.
It is always a pleasure for me to share my passion with others and to discuss about new incoming project.


Caroline Fraser


Passionate about drawing and painting from a young age, it was at 10 years old that my parents gave me my very first oil painting box and they enrolled me in classes. Very enthusiastic, I remember the excitement of these first sessions and painting quickly became a nice passion.
As a teenager, I painted until the wee hours of the morning. In love with animals, they became my favorite subjects. They appear in all my drawings or almost. Young adult, I had to put away my brushes for a few years. The studies, the work and my passion for the horses occupied all my time. I used to paint occasionally, but not much. Self-taught artist, it is only a few years later that I started to paint again and decided to enroll in drawing classes to understand and acquire some techniques.
In addition to the techniques of drawing, the study of portraits, human body and textures, my classes allow me to touch other mediums such as pastel, sanguine, charcoal and Indian ink. My thirst for learning is always growing and art is now becoming more important in my life.
As time goes by, I am also experimenting with porcelain, wood and fabric painting. Although I spend most of my time painting realistic animals, it's been two years since I devote part of my art to developing and creating playful animals. These plunge me into a light imagination, open to creation and stories. They allow me to escape from the more serious aspect of realism.


Danielle Boudreault


Decorative painting arrived in a moment in my life and has awakened the artist in the soul that I was. It was a real blow of heart! So I formed, initially, with experienced teachers and recognized in this environment. Subsequently, I continued my development in a self-taught, while trying out different approaches with professional artists in acrylic and oil. Bachelor's degree in education, it was natural for me to combine my two passions: education and the arts. I devote myself entirely since 2001. I share my experience with pleasure by offering workshops in brush stroke and to my studio. Creative and detail-oriented, I love to bring a modern touch and unique in my work.


Debbie Cotton


As a young girl I always held a fascination and admiration for art! Throughout my school years I was identified for my natural ability to design and won awards for my creations. As a teenager I painted numerous windows at local restaurants creating seasonal displays as well as posters for upcoming events. Art has always played a role in my life one way or another. I am very fortunate to turn my passion into a career. I have been designing and teaching now for 25 years! I became known in the decorative painting industry for my signature vintage style with many of my works published in books, DVDs and painting magazines. I am a Certified Pebeo Product Specialist, an Ambassador Artist with Royal Brush and a Member of DecoArt Americana Helping Artist Program. I attend many annual trade shows, travel teach and also teach at our local pub for paint night events. I love to create a variety of designs from vintage to abstract to mixed media and more! I believe that art helps us to see beauty in things we may not have ever noticed. To stop and smell the roses so to speak.


Denise Nadeau


Presentation of the artist to come.


Di-Anne Desjardins


Presentation of the artist to come.


Elsa Boisjoly


Presentation of the artist to come.


Hélène Bisson


Originally from Bellechasse (Lac-Etchemin), I now live in the town of La Baie Saguenay since 2000. As a teenager already having a strong interest in freehand drawing, I was lucky to have parents which allowed me to exploit my talents by letting me draw on the walls of my room and the basement. It was my first tests.
After two years of study in applied art, life led me to work 3 years in interior design. From that moment, I leave the world of the arts for a few years to take on other professional challenges.
It is during the pregnancy of my daughter and being a very active person that I decide to take a decorative painting course as hobby. So I make my first attempts in painting on an old desk to emphasize the birth of my daughter. The positive reaction and comments from peoples aound me convinced me to start painting again. From then on, I started to paint (self-taught) on different objects, such as: stool, wooden box, milk can, wooden tray, etc. I also exploited different techniques of faux finish, frescoes, decorations while keeping a very versatile style. From word to mouth, my achievements have come a long way. Following a meeting, I am offered to attend a workshop: painting on canvas "a revelation for me! "
Since then, I have been painting on canvas and refining my art full time. I paint my subjects with a touch of spontaneity and from there my inspiration. I work with vibrant color palette that reflects my "joie de vivre" and allows me to share my dynamism. I consider myself really privileged to be able to live this child's dream.


Holly Hanley


My friends say that I was born with a paintbrush in my hand. Well, I'm not sure about that, but I always loved art. I had a great art teacher (Mr. Ruder) who introduced me to countless techniques and inspired me to develop my artistic abilities.
I took more art classes in University and received my Bachelor of Education majoring in Art and Music in 1996. While attending University, I found employment at Dutch Growers where I first started teaching folk art classes. In 2001 they decided to close their folk art department and although that door closed, another door opened called Paintin' Treasures, my own little folk art shop where I teached classes and sold various folk art supplies. Although now the shop being closed, I keep giving a few classes in my home workshop and am selling my patterns ans supplies through my website.
This change gave me the opportunity to travel teach and this has given me incredible memories that inspire my work.


Isabelle Desrochers


Native from Quebec City, Isabelle was a very energetic child. To get a small reprieve of piece and quiet, her mother would give her crayons and paper. Ever since, she has never stopped drawing.
As a teenager, Isabelle steered towards caricatures and drawing illustrations for magazines or for children's books. Her preference being for felts and colored crayons, avoiding all types of brushes and paint. A career as a painter was definitely not on her mind.
It was her mother-in-law that made her discover decorative painting in her twenties; a new passion that has made it possible to bring to life her ideas on many other surfaces than paper.


Jacinthe Tremblay


Presentation of the artist to come.


Josée Cloutier


For the past ten years, Josée is fully committed to painting by creating art work on canvas, fabric, porcelain or wood, all of it published as patterns and teaches 6 to 8 art classes a week at Pin-So, in Quebec city.
Young adult, she undertakes study in fashion and works for two decades in the creation of clothing.
At 8 years old, she learns to paint with oil and palette knives. She was always attracted to drawing and painting. Today, her style is very diverse, but continue to be influenced by femininity and fashion characters.
She uses a wide variety of medium, from acrylic to oil, including mixed media and imitation stained-glass.
You can check out and buy her patterns at www.pin-so.com and meet her at Pin-So in Quebec City.